Calaf MKII , there is very little headroom available beyond dynamic conditions under for the Calaf. Massive toroidal transformer with independent secondary windings and a bank of eight 10,000uF electrolytic reservoir capacitors for each channel's main power supply. There are also independent preamplifier sections for each cannel and both of these have their own power supplies. Both left and right channels are built as mono power amplifiers, each with seven pairs of high-current transistors mounted onto a thick copper bus bar. This is bolted onto the extruded heat sink that's visible on either side of the amplifier.

Combined with the advantage of class AB and the class A technology, the Cool Class A technology actually achieved the same linear sound performance but without the normal need of a big electrical current, as Class A does.

Calaf MKII is the perfect partner for Consonance's Turandot CD player.


Features:
- 200 watt output power, LED display equipped
- Relay switched input source selector
- Digitally controlled active preamp stage
- Cool Class A technology applied in amplifier stage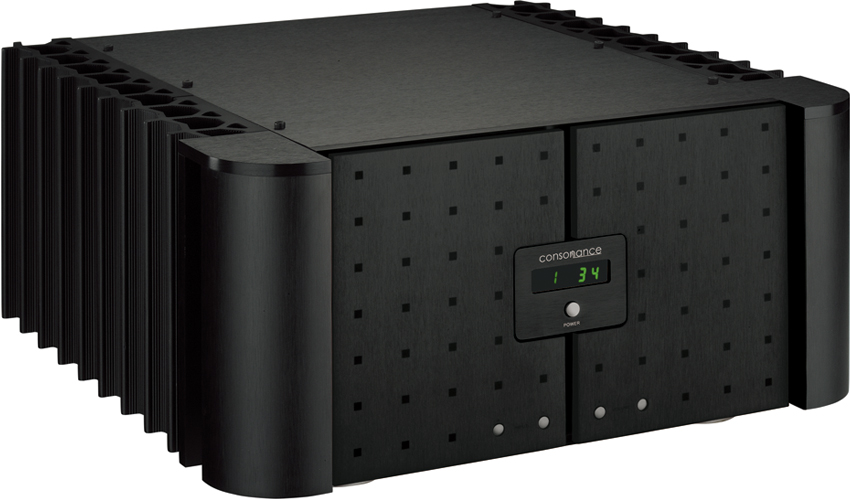 | | |
| --- | --- |
| | 200W + 200W at 8 Ohms Dual Mono |
| | 2 ohms speakers can be connected |
| | 5 remote controllable inputs switched by gold plated relays |
| | |
| | Gold plated Phono/RCA unbalanced and gold plated XLR balanced |
| | Less than +/- 0.1 dB deviation 20Hz-80kHz |
| | Less than 2 degrees deviation 20Hz-80kHz |
| | |
| | |
| | Less than 0.015% @ 100W 8 0hms |
| | |
| | RC-5 compatible IR system 36kHz modulation |
| | 20cm x 45cm x 45cm (HxWxD), 45kg shipment weight |